Colette. Écrire, pouvoir écrire 

Exhibition of the Jan Michalski Foundation
Salon Eiffel
The Jan Michalski Foundation for Writing and Literature was created in Montricher, at 
the foot of the Swiss Jura, by Vera Michalski-Hoffmann in memory of her husband, in order to promote literary creation, combat the erosion of reading and give people the opportunity to read, see and hear all forms of written words, in a place open to the world. These various missions are reflected in the provision of a vast multilingual library, the awarding of an annual prize for international literature, the granting of financial support for literary projects, the hosting of writers-in-residence, as well as in the programming of cultural events and temporary exhibitions, exploring the book from a variety of angles, from the history of movements and genres to the work of artists combining words and images, via writing universes, as in the case of the exhibition Colette. Écrire, pouvoir écrire
As a novelist, mime artist, actress, journalist, screenwriter, advertising executive and occasional beauty product merchant, Colette (Saint-Sauveur-en-Puisaye, 1873 - Paris, 1954) defies classification. Born in a family with no means, she entered the world of literature unintentionally, and made change a rule of life, almost a moral. Her unconditional freedom, her innovative approach to writing, imposing new themes, making women subjects in their own right, reconciling literature with nature, have inspired generations of readers and made her a contemporary icon.
But how does one become Colette ? To ask this question is to return to the source of a vocation that refused to speak its name, to recall the family, social and personal obstacles that had to be overcome, and all the conquests that Colette was able to make, as a pioneer, in half a century of creation. For Colette, writing was the place and instrument of her emancipation. 
From the Claudine series to Le Fanal bleu, Colette reenchanted literature by inventing a "new alphabet", by imagining heroines who faced solitude, exclusion, differences or age, with equal courage, by questioning the stereotypes imposed by the society of her time, by exploring reality in its most banal dimensions, exposing and bringing to light what the human eye had not touched before her.
To mark the 150th anniversary of Colette's birth, the Jan Michalski Foundation presents an exhibition of nearly 250 documents - first editions, photographs, letters, manuscripts, objects - rarely or never shown to the public. Now on show at the Grand Palais Ephemere in Paris, after having been presented in Switzerland, this original journey bears witness to the thousand eclosions of a writer at work, imposing, with the force of her pen, a name that has become an emblem.
Guest curator : Frédéric Maget 
Jan Michalski Foundation for Writing and Literature​​​​​​​
www.fondation-janmichalski.com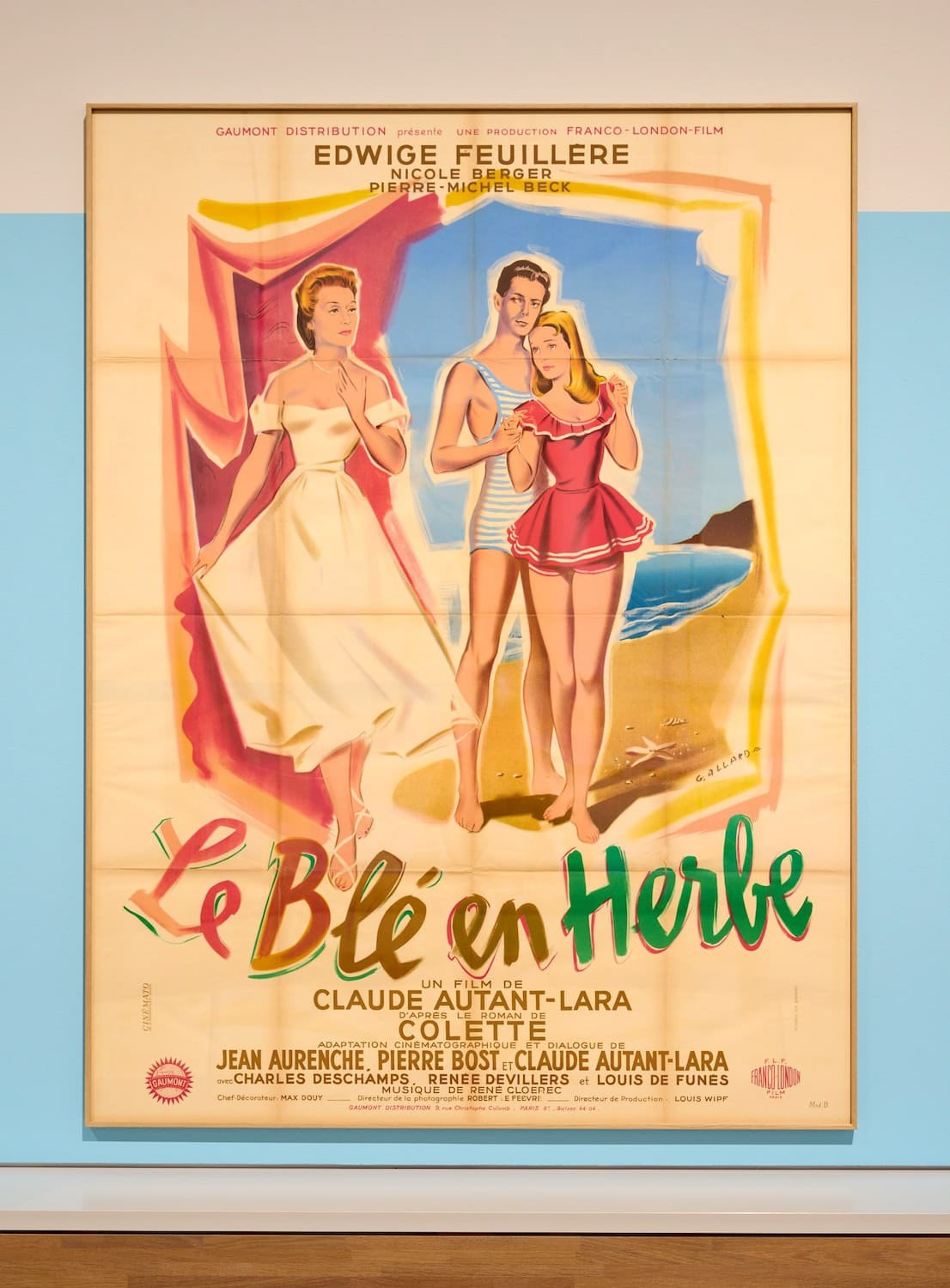 L'ATELIER D'ARTS APPLIQUÉS DU VÉSINET
WORKSHOP IMMERSION IN THE HEART OF THE EXHIBITION
The Atelier d'Arts Appliqués du Vésinet - Centre des Arts du Livre will once again be showcasing the talent of its students and teachers, and offering visitors the chance to discover or rediscover the book trade professions : the art of bookbinding and book decoration, restoration of antique books and graphic arts, and gilding on leather.
It is an opportunity for visitors to meet the artisans who practise these crafts, and share their passion. The team on hand will explain the steps involved in their creation process, and answer any question. 
To make the experience even more immersive and interesting, a series of demonstrations will showcase the ancestral and contemporary techniques used and the unique know-how of these crafts. For the duration of the show, there will be daily animations by students, and a flagship demonstration each day by a teacher on a given paper-related subject.
This year's show will focus on paper, on the restoration of graphic documents, but also on binding techniques such as Bradel paper. Gilding will also be featured, with demonstrations on leather and paper. The painting restoration trainer will be inviting visitors to discover restoration techniques on different formats.
The most beautiful bindings from the Atelier d'Arts Appliqués du Vésinet's annual competition will also be showcased on the stand, whose theme this year is "Paper in all its states".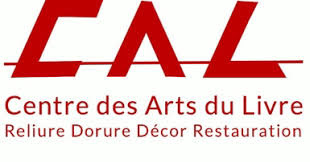 L'Atelier d'Arts Appliqués du Vésinet – Centre des Arts du Livre
Training courses for amateurs, future professionals and established professionals
Qualiopi certification obtained in 2021, attesting to our commitment to quality and continuous improvement in our training courses.
Stand i10-12, Eiffel wing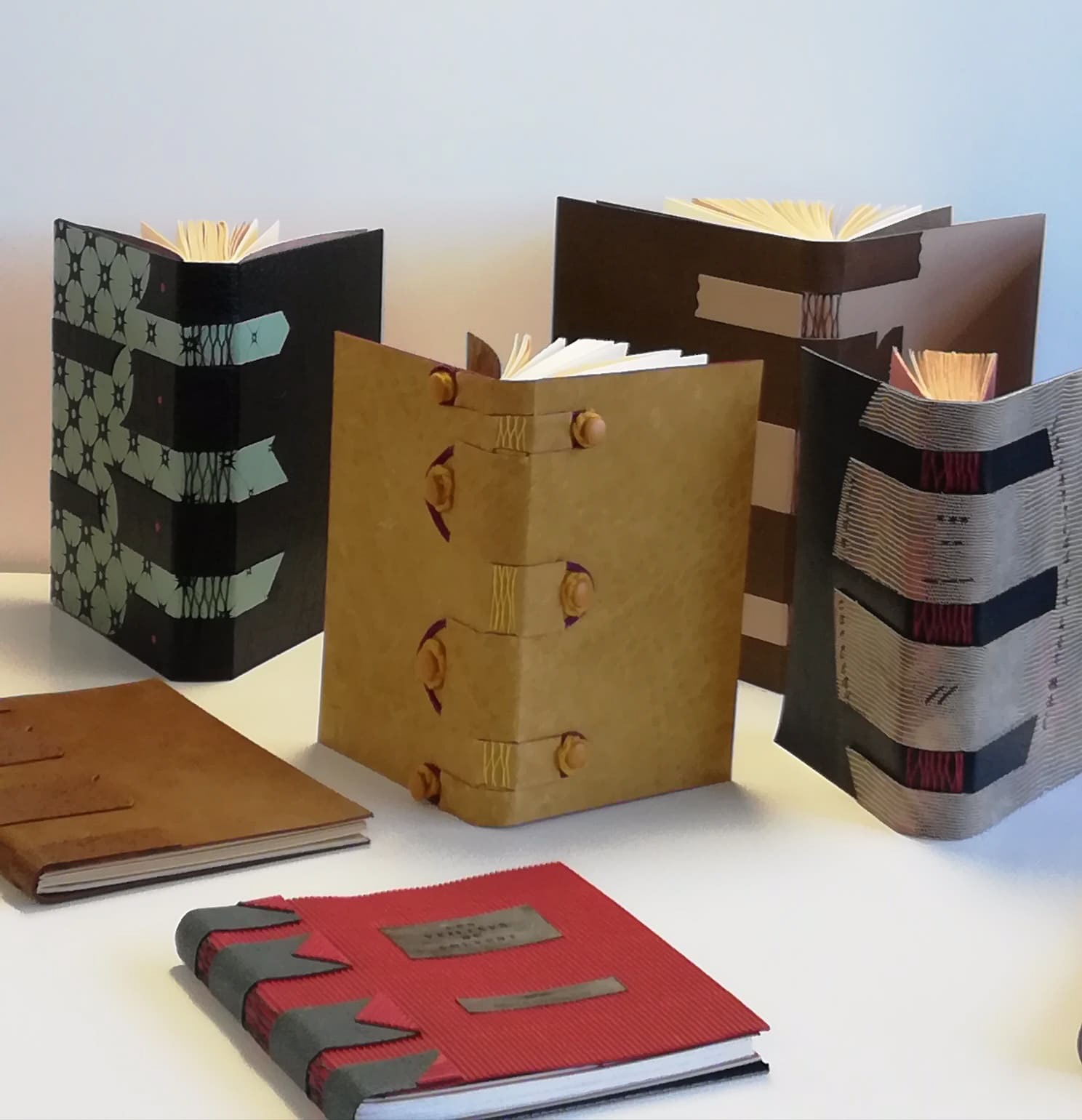 ❦
ALBERT PALMA
THE DANCE OF THE HAND ON THE BOARD
By Philippe Nassif

Albert Palma's work has already attracted the passionate interest of many writers, philosophers and artists, including Henry Bauchau, Pascal Quignard, Moebius and Jean-Luc Nancy.
Albert Palma's images, both singular and profound, seeks its influences at the sources of modern art - from Paul Klee to Arte Povera – in the calligraphic memory and ethics of the right gesture, cultivated in Asia and supported by the principle of "wu wei" - the "non-action" without which, paradoxically, nothing is accomplished.
His works are characterized by a distinctive feature: they are executed freehand, mostly in pen and ink. Albert Palma can sometimes remain bent for up to 72 hours at a time, over a board requiring some 100,000 strokes to complete. As the cartoonist Moebius understood, "all you have to do is look closely, realize that it's all been done by hand, and you suddenly enter a world you've never seen before. There's something that resides in the law of art, its exceptional, high-performance character".
It's all pen, brush, ink and paper, but the quest for the infinitely small meets that of the infinitely large. It's all dots, traces and strokes, but a patient breath carries them along hand in hand. A dance of the hand unveils original landscapes, world elements, with interpretations that are constantly renewed. As Jean-Luc Nancy writes, "if he comes here from mountains, seas, leaves or branches, lightning or skins, fabrics, it is only by his encounter with your memories, your impressions, your musings, but his hand only meets space, the expanse lying beneath it, stretched out against it ".
Myriads of "infinitesimal presences" arise, awakening an energy that is indissolubly physical and moral, driving it rigorously and precisely. In the words of Baldine Saint Girons, "Albert Palma's works, both concrete and abstract, function like mandalas, and are the site of profound, sharable experiences". 
Works and documents presented during the Fair:
Works inspired by books
Selected works
Letters and dedications
Books 
Documentary films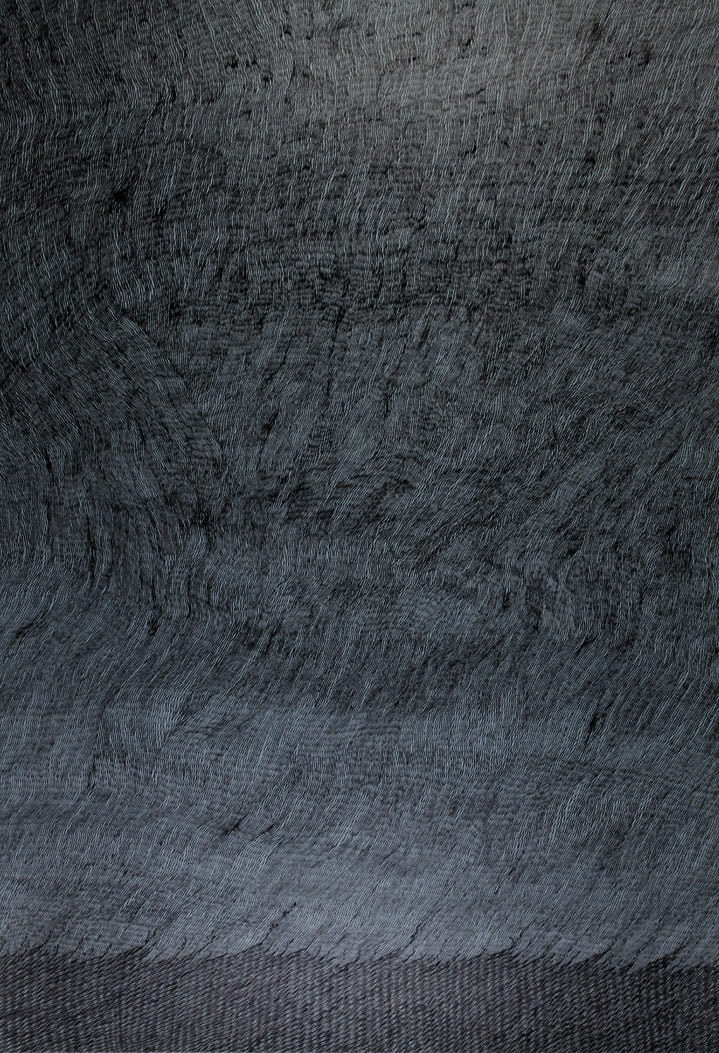 The Art Book and Print Workshop - Imprimerie nationale
i16, Eiffel wing
A lively and modern workshop
The Art Book and Print Workshop of the Imprimerie Nationale is a living workshop which, in the purest tradition of five centuries of French excellence, continues to print books with contemporary artists and authors. It is a living workshop whose modernity is expressed in, for example, the digitisation of historic typefaces and the creation of exclusive contemporary fonts to order.
A tradition of excellence for five centuries
The type designer, the punch engraver, the foundryman, the composers and letterpress printers and the cutter form an exceptional team that works daily on a unique fleet of machines and that maintains the treasure trove of punches, consisting of some 750,000 engraved pieces, most of which are classified as being of historical importance.
These masters and craftsmen are able to respond to any request from publishers, artists, gallery owners, bibliophiles, public institutions and private companies. The typesetters use the eight exclusive typefaces of the Imprimerie Nationale, Garamond or Romain de l'Université, Grandjean or Romain du Roi, Luce or Type poétique, Didot millimétrique, Marcellin-Legrand, Jaugeon, Gauthier and the latest typeface designed and produced by Franck Jalleau in 2018: Salamandre. They also have the largest collection of oriental characters in the world, allowing them to compose in more than 65 scripts, each in several styles: hieroglyphs, Coptic, Chinese, Ninevite, Aramaic, Hebrew, Arabic (12 styles), Samaritan, Siamese, Brâhmî, Syriac, Tifinagh...
The art book at the Imprimerie Nationale
The Imprimerie Nationale has always had a vocation for creating bibliophilic editions, since it began in 1538 under Francis I: this explains the salamander (the king's personal emblem) proudly displayed on the company's logo. The very first painter's book was printed on its presses in 1900. There are countless renowned artists whose books have been printed or published by the Imprimerie Nationale, from Pierre Bonnard to Miquel Barceló. Several of these artist's books are still available, as are deluxe editions published in the collections "Lettres françaises", "La Salamandre" or "Acteurs de l'Histoire".
With 35,000 volumes dating from the 16th century to the present day, the Imprimerie Nationale's historical library includes, in addition to the productions of the State-owned establishment, specialised collections on the graphic arts, bibliophily, oriental erudition, travel, natural history, etc.
Demonstrations of type casting and typographic composition will be given during the exhibition on Friday, Saturday and Sunday between 2 pm and 6 pm.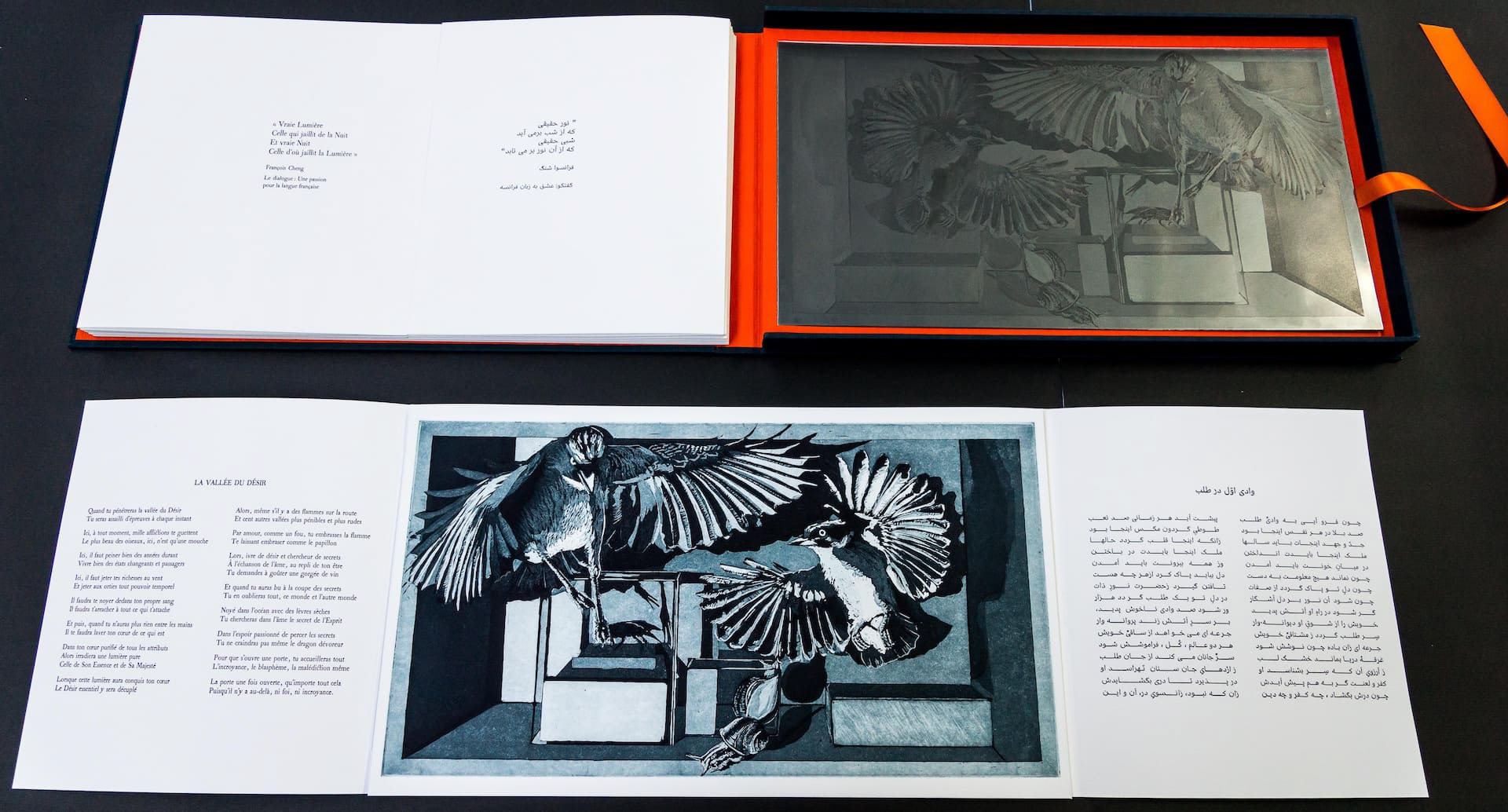 Concert-show Saturday September 23rd at 3pm
Salon Eiffel, 1st Floor

"Would you like me to tell you everything?
I had only one calling: music!"
En déjeunant avec Colette, Le Phare, February 3rd, 1933
To mark the 150th anniversary of Colette's birth, the Compagnie Théâtre en Fusion presents a concert-show entitled "Colette et la Musique" (Colette and Music), focusing on Colette's relationship with music throughout her work, and with the great composers of her time, some of whom she became close friends with: Ravel, Debussy, Fauré, Messager...
Born into a family of music lovers, she learned to play the piano at an early age and remained a musician all her life: "I learned musical notes at the same time as I learned litterature". As she began her career as a journalist, she wrote numerous music columns, before collaborating with Ravel on the famous lyrical fantasy L'Enfant et les Sortilèges.
Attracted to Colette's character and work, nostalgic for the artistic salons of the 19th and early 20th centuries, we wanted to associate the writer, a regular guest at the most fashionable salons of the time, with the music of the composers she rubbed shoulders with.

A great deal of literary research has enabled us to discover Colette's beautiful accounts of the music and musicians of her time, her memories of evenings spent in the salons of Madame de Saint-Marceaux or at the home of the Princesse de Polignac, as well as the music reviews and columns she wrote in various newspapers, notably alongside Debussy - and finally through more poetic texts, taken from her novels.
To immerse oneself in Colette's world is to be immediately challenged by the literary force emanating from her writings, and by her distinctive style - which can be described as impressionistic, in tune with the pictorial and musical language of her time : her words suggest more than they say.
Based on this research, it seemed fascinating to bring to life these artistic exchanges between a four-hand repertoire, a genre that was very much in vogue at the time in the salons, and a literary work that appears as a touching testimony, in a concert-show for an actress and two pianists.
With simplicity and poetry, our concert-show recreates the artistic vitality of the period, of which Colette was a major figure.
The show is punctuated by projections of portraits of the composers and socialites Colette wrote about, as well as a short animated film that brings to life Toby-chien, Colette's famous dog, whom she questions on music in a long imaginary interview...

L'ASSOCIATION CULTURELLE DES BOUQUINISTES DE PARIS
The "Association culturelle des bouquinistes de Paris"( Cultural Association of Paris secondhand Booksellers), founded in 2009, brings together the majority (90%) of second-hand booksellers with green wagon boxes on both banks of the Seine in Paris. This small guild, unique and specific to Paris, has been present and active here since the second half of the 16th century. Like Notre-Dame and the Louvre, it is a major symbol of Paris, and since February 2019, its traditions and know-how have been classified as part of France's intangible cultural heritage. 
An essential link of the cultural chain of books, these second-hand booksellers complete it by offering works that are unavailable from new booksellers because they are out of print yet not rare and precious enough to be found at bibliophily shops. 
This year, we have chosen to present one of the many personalities who characterize our corporation: Bernard Carver-Grapotte.

Since 1997, Bernard has added to his book dealer activities at the Quai Voltaire, that of  talented painter ! With a great sense of colour, he carries us away with passion to the Parisian banks of the Seine with their thousand and one boxes of books, into his half-fauve, half-expressionist universe! A whirlwind of life and happiness, inviting you to discover this passionate profession, made of sharing and freedom!
Bouquinistophilically,
Jérôme Callais 
President, Association culturelle des bouquinistes de Paris 
Facebook : 
les bouquinistes des quais de Paris 
les bouquinistes des quais de Paris 2